CodeTwo Email Signatures for Office 365
CodeTwo Email Signatures for Office 365 is an innovative cloud solution for central management of email signatures and disclaimers in Office 365. It lets you quickly set up email signature rules for all or selected users and automatically add signatures and disclaimers to their messages, no matter what email system they use .
Insert signatures under the latest reply or forward
View server-side signatures in end-users Sent Items folders
See signatures while composing an email in Outlook, Outlook for Mac and OW
 Effortlessly add images, logos, banners and Office 365 user photos to email signatures
Assign signature management rights to specific users and groups
Create smart signatures using an intrinsic signature template editor
Microsoft AppSource favoured solution
Easy to use CSAT surveys in signatures, email marketing and view campaign results
24/7 back-end support and monitoring
Express installation via automatic wizards. 
Created and supplied in accordance with ISO/IEC 27001 & 27018-certified management system
Automatically add signatures to emails sent from any email software and device (including mobile)
Personalise an entire organisation's signatures by using Azure Active Directory data, including custom features like Initials, Pager, HomePhone, etc.
Trustworthy and safe email processing within Microsoft data centers
Email Signatures for Office 365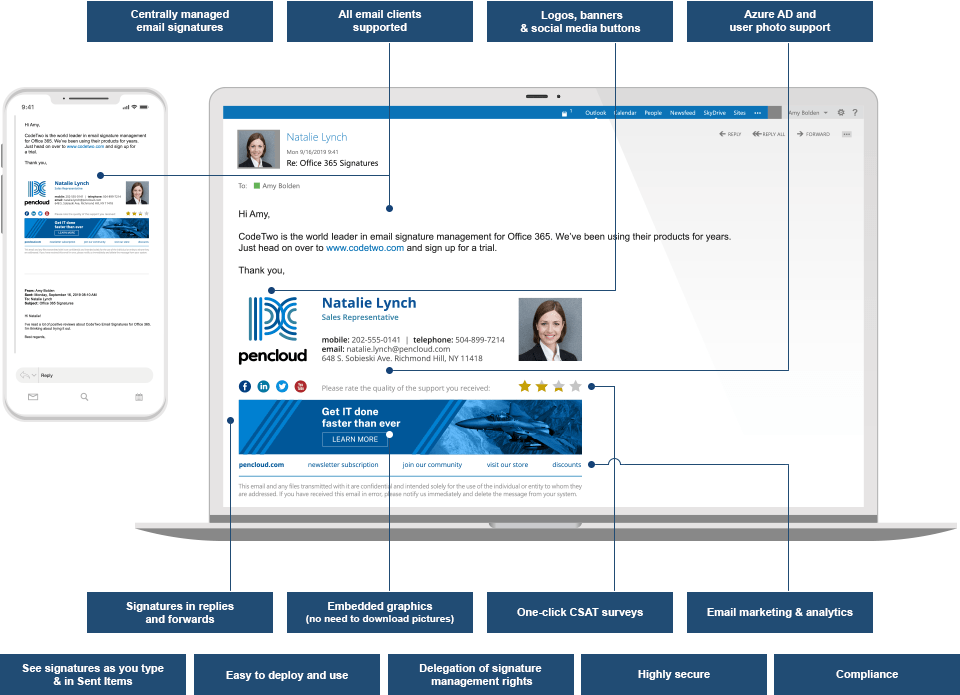 One-click CSAT surveys
Automatically add personalised one-click customer satisfaction surveys to your email signatures-no matter what devices you are using. This lets you accurately measure and analyse your customers' satisfaction.
Centrally managed email signatures
Once program setup is done, email signatures and disclaimers are automatically added to emails according to the settings you selected. What's more, email signatures are added directly in the Cloud, on the server side, so there's no need to access the client devices.
All email clients and mobile devices supported
The application stamps emails when they travel through the Cloud, so there are absolutely no limitations when it comes to email clients. The program can insert email signatures into messages sent from literally any device.
Logos, banners & social media buttons
Pictures, banners, social media buttons and other such graphics are fully supported by the program and you can use them in your email signature templates. Not only does this make your emails look more professional, but also opens up new opportunities in the field of email marketing.
Embedded graphics (no need to download pictures)
CodeTwo lets you embed graphics of your signature in email. This means that the recipient will always see a fully branded signature on every device, and eliminating  the need to to click "Download pictures". No more red Xs and paperclip icons.
Highly secure
Reliable and secure:
Your emails are not captured or read by anyone, and your Office 365 credentials are kept safe by OAuth 2.0. Our software helps you meet your GDPR goals, not only due to the safety mechanisms in place at its core but also because we care deeply about the privacy of your data (we have a management system certified against ISO/IEC 27001 & 27018). Furthermore, the program comes with 24 hours/5 days a week technical support and its performance is covered by 24/7 back-end support and monitoring.
Developed and provided in accordance with ISO-certified management system:
CodeTwo Email Signatures for Office 365 is developed with support from the ISO/IEC 27001 and ISO/IEC 27018-certified Information Security Management System and by following the privacy by design and privacy by default approach. This ensures comprehensive information security and personal data protection in the cloud and on-premise.
Moreover, our secure relay technology reroutes your emails through CodeTwo services hosted on Microsoft Azure that equals the same information security standards. Your emails never leave Microsoft datacenters during the process, and the process is invisible to both the sender and the recipient.
Email marketing & analytics
Use email signatures for marketing and see the results:
Send marketing news to your customers in email footers & add URL tagging to links. Track the results of your campaigns in analytics platforms, e.g. in Google Analytics.
Automate email marketing campaigns:
Plan out email marketing campaigns ahead of time by using the Scheduler. This way every email marketing campaign you have scheduled in the application will run automatically.
Azure AD and user photo support
Azure AD Support:
Personalise your email signature designs by including dynamic Active Directory placeholders (both standard and custom AD attributes are supported). After a user sends an email, Code Two Email Signatures for Office 365 reads their information from Azure AD and inserts it into the email signature on the go.
Office 365 users' photos in signatures:
With Code Two Email Signatures for Office 365, you can include Office 365 users' pictures as part of their email signatures.
See signatures as you type & in Sent Items
See signatures while composing an email:
Our users can see their server-side Office 365 signatures while composing an email. This works with Outlook, Outlook for Mac and Outlook on the web (OWA). We are the first vendor in the world to provide this technology to the clients.
Email signatures in Sent Items:
You can enable the Sent Items Update to let your users see the signatures in the Sent Items folders on every device. Furthermore, the feature lets you easily ensure compliance with legal regulations. All this, without affecting the application's or Office 365's performance!
Easy to deploy and use
Express deployment:
All aspects of the setup, including the configuration of Exchange Online connectors, are done by automatic wizards. All you need to do is authorise the process with your Office 365 global admin credentials and run the program's management console-no installs required!
Built-in signature template editor:
One of the most robust CodeTwo Email Signatures for Office 365's features is the built-in WYSIWYG editor. HTML expert or not, you will be turning out professional HTML email signature templates like a professional.
Signatures in replies and forwards
Our highly advanced email signature positioning system can add email signatures to replies and forwards – not just at the bottom of your correspondence.
Delegation of signature management rights
Delegate email signature creation and management tasks to individual users or teams in your Office 365 organization and ease your admins from non-essential administrative tasks. No need to assign any admin roles.
Compliance
Stay compliant with legal regulations:
Automated email signatures will help you stay compliant with various legal regulations and directives like GDPR, CASL, The Companies Regulations, Business and Professions Code, etc.
Multiple geolocations:
Your data (i.e. settings and AD cache) can be kept in a geolocation of your choice with a guarantee that it will not be transferred anywhere else. We do not store your emails or any other data.
Code Two Email Signatures for Office 365 uses cloud services hosted in Microsoft Azure™ to automatically add email signatures to your emails. The built-in wizard helps you reconfigure your Office 365 mail flow to securely relay your messages through Code Two Email Azure Service. During the process, emails stay within the Microsoft datacenters.
Rest assured your emails are safe as they never leave the Microsoft data centers. Our product meets high security and reliability standards of business communication.