With this powerful desktop application, data migrations to Microsoft 365 (Office 365) from Exchange Server, as well as servers supporting IMAP, are easier than ever before. You can also migrate mailboxes between two Microsoft 365 tenants. The program is easily configured to enable seamless move of mail to the cloud, with the assistance of status reports and log files for each migrated item. It doesn't matter if you are currently on Exchange 2003 or 2019, Zimbra, IBM Notes, Zarafa, Kerio Connect or G Suite, or planning to combine two different Microsoft 365 tenants, the program will make it possible for you to perform safe data migration of all or selected users to Microsoft 365.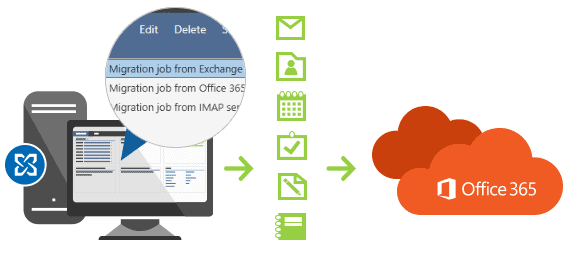 Exchange to Microsoft 365 migration
Easily migrate from any version of Microsoft Exchange Server to Microsoft 365. The program will assist you to transfer your on-premise mailboxes directly to Microsoft 365. Don't fret about which Exchange version you are currently using. Exchange 2003, 2007, 2010, 2013, 2016 or 2019 – all of these can be used as the source of the migration!
Migrate between Microsoft 365 tenants
With the ability to connect to the source server via EWS, you can openly migrate mailboxes between Microsoft 365 tenants. You can move all items both to an empty (new) Microsoft 365 tenant or to an existing organisation, which can prove to be useful e.g. during company mergers, or acquisitions.
Migrate email, calendars, contacts and more
By means of CodeTwo Office 365 Migration, users Exchange mailboxes are duplicated to the Cloud together with all it's original content and folder structure. The result of the migration is a 1:1 copy of the source Exchange mailbox in Microsoft 365. This applies to all type of folders supported in your target Microsoft 365 plan – email, contacts, calendars, tasks, etc.
Migrations from Exchange 2019 / 2016 / 2013 / 2010 / 2007 / 2003 and SBS to Microsoft 365
CodeTwo Office 365 Migration does not require you to upgrade your existing Exchange Server install to be able to migrate to the cloud. Direct migrations from legacy Exchange servers and Small Business Server 2011, 2008 and 2003 are completely supported.
Migrate Exchange public folders to Microsoft 365
Additionally Exchange Server public folders can be moved to Microsoft 365 by means of CodeTwo Office 365 Migration. Simply create an empty mailbox for the Public Folders in Microsoft 365 and our software will take care of it all. In contrast to the native scenario, you do not need to perform complicated actions, be familiar with scripting, or experience any downtime in this process.
Support for cutover, staged and hybrid migration
The program lets you migrate mailboxes in any way you wish. You can migrate all mailboxes in one go, transfer data in batches or migrate within hybrid environments. Just setup a migration job accordingly and let the software take care of the rest, offering a higher level of customisation than the native migration paths.
Post-migration rescan
The Rescan feature lets you scan already migrated pairs of mailboxes and public folders. If the software finds any new items, it migrates them to the target server without copying the content which has already been moved. This function ensures that no item is left behind after the server switch.
Support for all languages
The software supports all languages. It means that whatever language the source and the target server has set, CodeTwo Office 365 Migration will take care of migrating all special characters, so that all transferred elements look the same way they looked on the source server after the migration.
Migrate Google, Zimbra and more to Microsoft 365
Using CodeTwo Office 365 Migration, you can carry out a migration of emails from any server supporting IMAP, like IBM Notes (formerly Lotus Notes) or G Suite, to Exchange Online. Morever, the program gives you a wide range of filtering, scheduling and reporting features to help out with the task at hand.
Automatically provision and license Microsoft 365 users
Don't waste time juggling CSV files and PowerShell scripts. CodeTwo Office 365 Migration will take the task of licensing and creating mailboxes for users in the target Microsoft 365 tenant off your plate. Just run the software's mailbox creation wizard, adjust the settings and hit start!
Automatic mailbox matching
The Automatch option lets you join source and target mailboxes based on custom patterns. Thankfully because of this feature, the preparation stage of the migration takes a lot less time than using Microsoft's own native tools.
Folder types selection
You can now decide what kind of items are migrated. Simply place a check mark next to a folder name to process only this specific type of item- emails, contacts, calendars, notes, tasks or plans.
Scheduled migration
For many reasons administrators prefer to migrate users mailboxes over night or during weekends. The software comes with a convenient Scheduler option that allows to schedule the exact time when the migration batches must be launched during the week. Furthermore, you can decide which mailboxes are migrated first and which ones follow. You can assign a priority number to each mailbox to set up the migration order. This way you can push more important users data first. 
Install in the cloud
CodeTwo Office 365 Migration can be installed on a cloud-hosted virtual machine (for example on Microsoft Azure Virtual Server). Thankfully because of this, you do not have to install any software locally and you can instead migrate with multiple cloud instances. This gives you more of the flexibility required especially when handling various multiple migration projects.
Full service availability - no downtime
With CodeTwo Office 365 Migration users can still use their mailboxes while their data is copied to Microsoft 365. The program doesn't affect the email service availability during the migration. Your users can access to their old mailboxes whilst their mail items are being transferred to Microsoft 365.
Secure migration
Your users data stays always secure during the migration to Microsoft 365. CodeTwo Office 365 Migration creates an identical copy of the source mailbox in the target location. The software doesn't delete or change anything in your mailbox configuration and anything that is synced to your Microsoft 365 plan is always fully encrypted. All security-related functionalities are set to active by default and comply with our ISO/IEC 27001 and ISO/IEC 27018-certified Information Security Management System.
Migration reports
CodeTwo offers comprehensive detailed reports that can be generated out for the overall migration process, or from a particular mailbox or job view. You can keep track of the migration directly in the application, or choose to have these reports by email.